Seasonal Site Information
Interested in camping seasonally?

Seasonal campers have the luxury of parking their camper and leaving it on the same site all season!  Our campground is a great base camp for those that love to hike, bike, kayak, ATV and just enjoy the outdoors.  We do not offer activities for kids or even for adults. We do however host potluck dinners on the holiday weekends, rocket building for the kids occasionally and our Halloween event on Columbus Weekend.  Other than that we let you entertain yourselves. Enjoy our beautiful Riverwalk Trails, hang out on the river on hot summer days, gaze at the stars on black starry nights, cozy up to a campfires, swim in our propane heated pool; play some horseshoes, or just hang; really the best of camping. 

Due to a high request for seasonal camping, we are going to open up a few sites for the 2021 season.  Review the list below, if you agree with all items below great!  Next step will be to complete the Seasonal Application.

We are not connected to the ATV trails, so if you want to ride directly we are not for you.  If you don't mind trailering into Gorham which is just 5 minutes away, that is what we offer.  

If you like to stay up all night and party, we are not for you; we do have a 10pm quiet time and we do enforce this for all guests.

Occasional guests are fine, but again we are not a party spot, so if you are thinking this spot will become the place for all your family and friends to hangout  that is not what we are about. 

We are a kid friendly campground, but we don't have scheduled activities for the kids so please consider this before you complete the application. 

If you haven't camped with us yet and are considering looking for a seasonal site; we recommend you check us out first. Stay a night or two and if we have what you are looking for, then submit your Seasonal Camping Application.

Lastly,  you do pay in advance, and it is non-refundable, but if you are okay with that, seasonal camping might be the best summer vacation you ever gave yourselves.  Complete this application and submit it to us for approval.

Rates are based upon 2 adults and dependent children under 18.

Thank you for considering Timberland for your Seasonal camping fun.
Shaded sites with picnic table and fire ring

Full hookups (water, electric & sewer)

Large heated outdoor swimming pool – Propane

Pirate Ship Playground with swings and slide

Bathhouse with Hot Showers Coin Operated
Additional washroom with dishwashing station conveniently located
Camp under the stars at Timberland Campground in the White Mountains of NH near Mount Washington. Whether you're looking for a tent site, an RV site, affordable cabin rental or RV / camper rental, we've got sites for everyone's camping needs.
Campground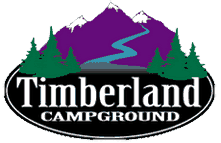 Campground Lodging
Seasonal Sites at Campground
Timberland Campground
Timberland Campground
,
809 US-2
,
Shelburne
,
NH
-
03581
,
Telephone No.1-603-466-3872
White Mountains NH
White Mountains, New Hampshire Campground - Lodging
Seasonal sites at Timberland Campground in the White Mountains of NH